Countryside BBQ | Barbeque Restaurant | Marion, NC
Anywhere, Anytime - Countryside!
2070 Rutherford Rd
Marion
,
NC
28752
Last Updated: January 3, 2019
| | |
| --- | --- |
| Sunday | |
| Monday | |
| Tuesday | |
| Wednesday | |
| Thursday | |
| Friday | |
| Saturday | |
Kitchen hours: Mon - Thu : 11am - 9pm Fri - Sat : 6:30am - 9pm Sunday : 11am - 3pm
About Countryside BBQ | Barbeque Restaurant | Marion, NC
Countryside BBQ of Marion serves the best Barbecue & Southern comfort food
Since opening in 1990, Countryside BBQ of Marion is known for our delicious menu of all the best Southern comfort foods and barbecue you will ever see on a menu. Our staff is dedicated to delivering impeccable service by demonstrating the warmth and graciousness that Southern hospitality is known for. Join us for breakfast, lunch or dinner any day of the week to enjoy the best quality & delicious southern cooking at affordable prices! We'll keep a place set for you.
Rustic farmhouse cooking at its best, with all of your favorite southern dishes you love
Our menu includes all of the best Southern comfort foods such as hand-battered fried chicken, sandwiches & desserts! Our slow-smoked barbecue is hickory smoked for 14 hours. Our barbecue is always served "naked" so you can choose your own sauce, or enjoy it as it served! If you can't decide on any one of our decadent menu items, try one of our daily specials! If you still can't decide, come in for our Sunday buffet and experience a little bit of everything from our fine selections of meats, sides breads & desserts!
Have a wedding or event & want the best food in the area? Choose Countryside BBQ of Marion to bring our amazing southern food to you!
If you are planning a wedding, corporate event, office party or any other type of get together, Countryside BBQ of Marion offers a wide variety of catering services for you to choose from. Countryside BBQ of Marion was voted "Best Catering in McDowell County" in 2017. Our catering experts will help you work out & take care of all the details for you event, making easy for you to enjoy our delicious barbecue & southern foods.
Accepts:

American Express

Cash

Discover

MasterCard

Visa
Food Type

American

Features

Buffet, Daily Specials, Family Friendly, Kids Menu

Services

Online Ordering, Take Out, Groups, Offsite Catering, Weddings, Office Parties, Other Parties

Parking

Parking Lot

Attire

Casual
Monday
Hickory smoked pork chops served with paked apples, fried okra & chouice of rolls or hushpuppies
Tuesday, Friday & Saturday
Hickory slow-moked ribs, available in full or half rack. Served with choice of two sides & chouice of roll or hushpuppies
Wednesday
Tender pot roast with green beans, creamed potatoes, corn, cole slaw & chouice of rolls or hushpuppies
Thursday
Chicken Pot Pie served with mashed potatoes, green beens and white slaw & chouice of rolls or hushpuppies
Friday
Barbecue pork & popcorn shrimp combination dinner served with baked potatoe, cole slaw and hushpuppies
Saturday
Homestyle steak topped with gravy. Served with creamed potatoes, cole slaw, green beens, corn and rolls
Sunday Buffet
A little bit of everything. Served with meat, sides, bread and dessert. Make as many trips as you like!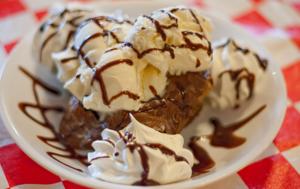 We visited Countryside BBQ on a Saturday afternoon around 2:30. I was impressed by the number of people there at a non-peak time. The waitress was very nice and helpful, the restaurant was very clean, and the food came quickly. The food itself was very good - I had BBQ and chicken fingers, collard greens, and a sweet potato that was perfectly cooked and needed no extra sweetness, though they provide cinnamon sugar. The BBQ was good and made better by the sauce. The chicken was decent, not the best but certainly enjoyed. My daughter had popcorn shrimp and green beans, which she loved. Husband had a full rack of ribs, sweet potato, and okra. The ribs were very good- needed no sauce. I recommend Countryside to anyone going through Marion. We aren't that way very often, but I will remember and try to visit again the next time we are out that way.
- Lesley R.
We love Country Side BBQ! WE eat here fairly often weather we dine in it pick it up and go eat at home. It is absolutely delicious and it's real country cooking. Each day of the week has a special to. Wed is pot roast with several sides and Sat is country steak and gravy with creamed potatoes corn, green beans and slaw an rolls. Those are our favorites. But we've tried almost everything on the menu and you can't go wrong with anything you pick. They have several salads and sandwiches all the way to steak dinners. It is a very cost country casual atmosphere and the people are very friendly. We will always come back
- Hillary D.
Excellent barbecue, great sides. Highly recommend the pulled pork with the house barbecue sauce. Great chopped slaw too. If you're visiting Marion or just passing through, stop in at the Countryside.
- Avery C.
Great food and a lot of it for cheap, real BBQ ribs, brisket, pulled pork, chicken, and special's everyday, Obama has been here and they have a plaque to proove it! All food $15 or less must go good home cooked comfort food!!!
- John L.
Countryside was recommended by local hotel staff, and it hit the spot after a weary day of travel. My daughter had all her favorites - grilled cheese, fries, and mac and cheese and all hit the spot. I took a bit of a risk going with the rib-eye but was not disappointed with a well portion hearty meal with a fresh salad and baked potato. Nothing fancy, but great comfort food that hit the spot.
- Mary B.