Every day and every night, Ken Doyle lives with the scars of what he experienced from his time in Afghanistan. During his service there, Doyle not only lost his right arm but his team leader who was by his side day after day lost his life as well.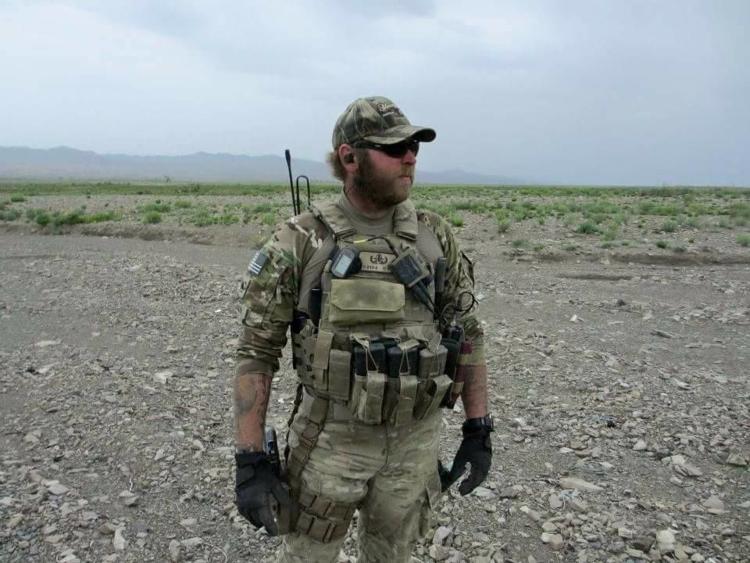 Now, Doyle is working with other veterans in McDowell County to help them cope with the trauma and stresses that confront them every day. He has turned his traumatic experience into a way to help others like himself.
At age 30, he is among that younger group of veterans who have seen duty in Afghanistan or Iraq.
Originally from Miami, Doyle's family did not have a military background. He was in the sixth grade when the Sept. 11, 2001 terrorist attacks occurred and the United States went to war in Afghanistan.
By 2009, he was 21 and was working as a manager at a McDonald's. He was looking for something different to do and decided to join the Army. In September 2009, he left for basic training at Fort Jackson in South Carolina knowing he would eventually be sent to either Iraq or Afghanistan. He went through further training in Alabama and Florida and spent a year at Fort Bragg. There, he and his unit were informed they were going to Afghanistan.
Doyle was an explosive ordnance disposal technician, which meant detonating improvised explosive devices (IEDs). It was his duty to blow up the IEDs and also analyze them to find out who left them there.
One day in August 2012 would change his life forever. But he doesn't remember the details of that particular life-changing moment. He was told later while recovering what had happened to him.
On Aug. 15, 2012, he and his team leader Staff Sgt. Eric Holman from Pennsylvania were supporting the Special Forces in Afghanistan and had gone out to do a number of post-blast analyses in an Afghan village. "When an IED goes off, we are called out to collect evidence and send it off to whoever gets them so that they can catch the bad guys who put the IEDs there," he said.
On that day, they ended up being called out for a series of IED explosions. "While we were at the last one of the day, we apparently had been watched so the local terrorists planted a secondary IED in the blast hole of the first one and when me and my team leader went down to collect the evidence, they detonated it on both of us," he said to The McDowell News.
Holman was standing between Doyle and the IED when it blew up and that likely saved Doyle's life. But Holman was killed by the explosion at the age of 39. The blast took out Doyle's right arm, which had to be amputated. He also landed on his head, which left him with a traumatic brain injury along with Post Traumatic Stress Disorder (PTSD).
Doyle was sent home and spent two years recovering in the hospital. He stayed at Walter Reed National Military Medical Center in Washington, D.C. where he learned to use a prosthetic arm and receive treatment for his traumatic brain injury.
"It taught me patience," he said in a previous interview. "There was military I still had to report to but I would see a lot of doctors and therapists."
He was there alongside other service personnel who had gone through experiences like him. Just about all of them had undergone some sort of amputation.
Furthermore, Doyle was right-handed so he's had to learn to use his left hand more often.
In addition, he was given the use of a service dog named Trooper to help him with picking up things, opening and closing doors and emotional support. Trooper also draws people's attention away from Doyle's disability.
Although he is thankful for his second chance at life, Doyle has struggled with PTSD and thoughts of suicide.
"I myself have gone through battles with suicide," he said in a previous interview.
But in recent years, he has found new purposes to his life.
On Aug. 15, 2013, he married Erica Curtis while still at Walter Reed. In 2014, he moved to Marion where his wife is originally from. Together, they have three children: Jeremiah (age 9), Eric Oliver (age 2) and Sarah Lucille "Lucy" (age eight months).
And here in McDowell County, he has started an organization dedicated to helping other veterans haunted by their experiences to better cope.
Doyle is the president of the non-profit organization called Warriors at Home. The purpose of Warriors at Home is to help prevent veteran suicide, which has reached a national average of 22 per day, according to Doyle.
"God has been guiding me," he said in a previous interview. "Every time I hear stories about military members committing suicide, it tears me up inside."
He seeks to turn a negative into a positive.
"Not everyone needs to start a nonprofit because of it, but they also shouldn't let negative life experiences define who they are," he said. "I've seen a lot of that and it's heartbreaking to me.
Warriors of Home holds meetings on the second Monday of the month. They meet at different local restaurants but often go to Pepperoni's.
This way, the veterans can all bond, make friends, share their war stories, and have a support group for those who need emotional assistance. The veterans who need counseling or just someone to talk to can share their feelings and thoughts with someone who has been there and walked in their boots.
Warriors at Home has around 20 members who have served in such places as Iraq, Afghanistan, Panama and Korea. "Sometimes our events are simple like bowling or seeing a movie, but we also have an obstacle course race team, we go shooting, go-karting, nighttime bow fishing, skydiving, and more," he said.
They recently took a Labor Day trip to Washington, D.C. and saw the memorials to our nation's war veterans.
Doyle is now getting his master's degree in clinical counseling.
Of his time in the military, Doyle said he had some great experiences and met some great people.
"Up until now, I would say I would do it again," he said.
But now he has a beautiful wife and three children. "I would not want to lose any of that," he said.
The loss of his Army friend and what he himself went through afterwards has changed him.
"One thing that had changed for me is that since Eric died keeping me alive, I try to not waste my life," said Doyle. "I try to live with greater meaning. I do things with my life that add excitement and adventure in order to live a life Eric would be proud of. I also try to make up Warriors at Home events with that in mind and invite as many vets as we can. That way, we can help other vets live with excitement and adventure too."