Vietnam War veterans reconnect 50 years later
Fifty years ago, Harold Wilson of Marion and his fellow Marines were doing their best to fight and survive in Vietnam. Today, their fellow Americans are finally recognizing their service in one of America's most bitter and controversial wars.
In 1968, Wilson knew he was going to be drafted like so many other young men at the time. He had graduated from Nebo High School two years before. So rather than be drafted, he joined the U.S. Marine Corps and went to Parris Island for basic training.
He served with Charlie Company, 1st Battalion, 4th Marines. From 1967 through 1969, 81 members of Charlie Company, 1st Battalion, 4th Marines were killed while serving in Vietnam. Some of the survivors who were able to tell about it received the Navy Cross, the Bronze Star, the Silver Star and the Purple Heart. Other medals were awarded posthumously. Members of Charlie Company fought in the Battle for LZ Loon in June 1968 and the Battle of Hill 484 in March 1969.
During the Battle of Hill 484, the 1st Battalion, 4th Marines fought against a regiment of the People's Army of Vietnam (PAVN). The Marines were hit by mortar fire causing numerous casualties and forcing them from the summit of Hill 484. With bad weather limiting air support, the Marines dug in and were subjected to small arms and mortar fire. On the afternoon of March 5, 1969, following an artillery barrage, the Marines assaulted the summit clearing numerous PAVN bunkers, according to online sources.
During the war, Wilson was wounded.
"But it wasn't too bad," he said almost 50 years later. "They just patched me up and I kept a-going."
One of his officers, Karl Marlantes, later wrote a book, "Matterhorn: A Novel of the Vietnam War," based on this experience. Marlantes would become an on-camera source for the 10-part documentary "The Vietnam War" by Ken Burns and Lynn Novick.
Two photos showing Wilson would be used in the acclaimed PBS documentary. One of them shows him fighting during the Battle of Hill 484.
He served his country from October 1968 to October 1969. He ended his service as a sergeant and came home a civilian.
"One week, I was on a patrol in Vietnam and the next week I was home as a civilian," he said.
Like so many other veterans of the Vietnam War, he quietly came home and resumed his life. For many years, these veterans were shunned by their fellow Americans as so many tried to forget that the war even happened. But more recently, the nation is starting to show its appreciation for our Vietnam War veterans.
Younger generations have become interested in what they went through and what happened to those who didn't come home alive.
Wilson's son-in-law Byron Moore is one of those. Moore, who lives in Red Oak, became interested in the men from Charlie Company and started researching their history. Moore started asking Wilson about his time in Vietnam and what happened to his fellow Marines.
"He never talked about it," said Moore of his father-in-law. "He got out his photos and we decided to start labeling them so his grandchildren would have a record of his military service."
Moore helped Wilson organize his old photographs from Vietnam. He worked to identify the men in the faded pictures and started to determine who was still living and where they could be found. In addition, he helped find the family members of those who were killed in combat or died since the war.
Moore started tracking down the other veterans of Charlie Company.
"We then decided we needed to start finding the Marines in the photos," said Moore. "This 'little' project just exploded."
Moore, Wilson and other family members now have an email list with more than 250 Charlie Company Marines, their family, and friends. This has been expanded to other companies within the 1st Battalion, 4th Marines.
"We have a web album with over 12,000 photos," said Moore. "We try to connect combat brothers with the only ones that understand what they have been through. It has been a healing process for many, painful at times, but I believe it has been a good thing for all involved. Offering closure to something that families have wondered about for 50 years."
"He's the one who put it together," said Wilson of his son-in-law. "He's absolutely done wonders. He is our Charlie Company historian. He is good about finding people."
They also hold an annual reunion.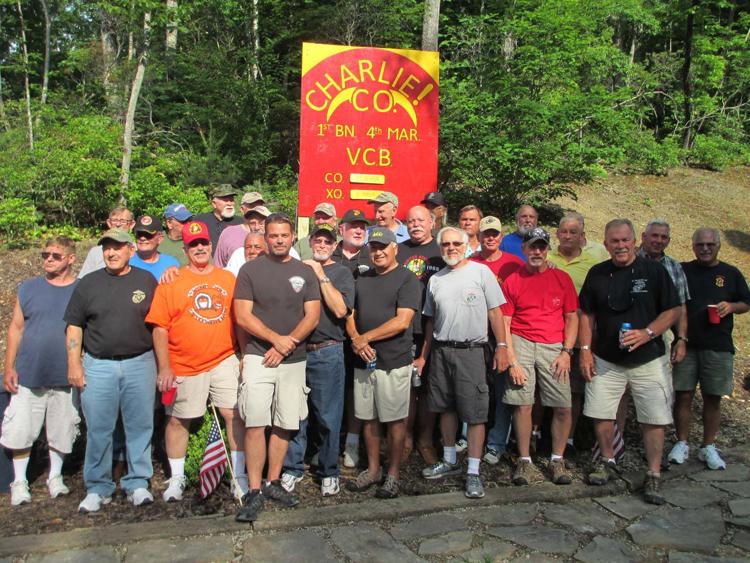 Every year, the Marines from Charlie Company gather at Wilson's cabin, located off of Tom's Creek Road north of Marion, and at his home on Stacy Hill Road. At the reunion, the veterans enjoy each other's company again and are reconnected over shared memories, some not so pleasant. A few of the family members of those who killed in the war attended the reunion too.
"People need to understand that the stuff Byron's done by finding these guys is amazing," said Wilson. "He's not only found these guys I served with, he's found the families of the guys we lost in Vietnam that I served with and also the families of those whom we lost since Vietnam."
His other son-in-law Jason Allison also helps out with the gatherings by getting the food ready and making sure everything is in place.
Wilson added imagine how meaningful and moving it must be for the child or grandchild of a man who was killed 50 years ago to finally talk to these veterans who served alongside that long lost father or grandfather.
"It's just an unbelievable closure for these families," said Wilson. "It's a pretty humbling experience."
Next to Wilson's cabin off of Tom's Creek Road is a wooden cross with the number 484 on it and a combat helmet on top.
When Wilson bought the property, he cleared that hill off and called it his "little cemetery." A friend of his brought an electronic device which indicated that the hill measured 484 meters.
"When we divided it up in meters, it came out to be 484 meters," said Wilson in a previous interview. "That was after we started the reunions."
He said this proved to be an amazing coincidence.
"The hills we lost the most boys on were Hill 484 and Loon," he said in a previous interview.
Wilson said he thinks the nation is starting to appreciate its Vietnam War veterans more.
"It wasn't a popular war," he said. "But in the last few years, it really has come around for the recognition of the Vietnam vets."