AMHERST, Va. — Kenneth Lloyd has played an important role in nine different prom experiences and a wedding, which is impressive considering he is only 12 years old.
For the past seven months, Kenneth has operated a dress shop off Buffalo Springs Road in Monroe to provide formalwear for those who may not be able to afford a wedding or prom dress.
The girls meet with Kenneth and his mother, Kathleen Doss-Lloyd, by appointment only and can select a wedding or prom dress from the more than 100 dresses the sixth-grade student at Amherst Middle School has acquired through donations. Kenneth also has amassed an impressive collection of shoes and other accessories to go with the dresses in his homemade boutique.
"Proms and weddings are a pretty big deal for people," Kenneth said. "I'm glad I have been able to be a part of that."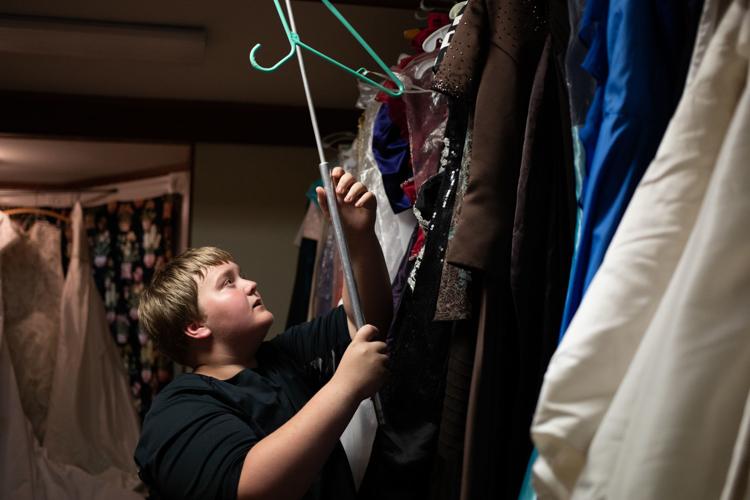 Kenneth gives the dresses to his clients — along with alterations — for free on the condition they don't sell the dress after the prom or wedding. They can keep the dress, give it back to Kenneth or give the dress to someone else in need.
"A lot of people want to pass the dress on to someone else after they are done with it," Kenneth said. "I'm fine with that."
Helping others comes natural to Kenneth; he spends every afternoon after school helping at the New Prospect Baptist Church Food Pantry, which serves about 900 clients a month.
When he is not helping his mother, who serves as the food pantry's director, Kenneth can be found at his dress boutique next door.
"He amazes me," Lloyd said about her son. "He has always had a good heart. I'm really proud of him."
Lloyd said Kenneth came up with the idea for the dress shop last year when he saw a table covered in dresses that had been donated to the church.
"He started thinking about how expensive prom dresses and wedding dresses can be and how some people might not be able to buy a nice dress and might miss out. He didn't want that to happen to anyone if he could help it."
Through donations from church members and local organizations, Kenneth soon had enough prom dresses and bridal gowns to set up shop in a house next to the food pantry. Both buildings are owned by New Prospect Baptist Church.
Kenneth renovated the room himself to look like a dress boutique, complete with full-length mirrors and furniture he purchased himself.
"He did all of this himself," Lloyd said during a recent Friday afternoon at her son's boutique. "You wouldn't expect this from a typical 12-year-old but Kenneth has never been typical. He's an old soul."
Kenneth operates his dress boutique under complete anonymity and never reveals the identity of his clients.
"He never would want anyone to be embarrassed," she said. "So far, it all has been done through word of mouth."
Lloyd said Kenneth is so secretive about his clientele that he was reluctant to be interviewed by The News & Advance about what he does.
"He didn't want to at first," Lloyd said. "But then he figured that this might get the word out and he could help more people and get more dresses donated."
Kenneth said his school recently held its spring formal and even though Kenneth did not attend, one of his dresses was there.
"One of the girls at my school came to me for a dress," Kenneth said. "She came up to me the Monday after the dance because she wanted to show me a picture of her in the dress. It made me feel pretty good."
Lloyd said all of the girls her son has helped have been extremely grateful.
"It just kind of takes you back a step when someone is so grateful," she said.
Although most of his clients have come to him for dresses to either proms or spring formals, Kenneth is hoping he can help more brides in the future. The 12-year-old also has been collecting items like punch bowls, glasses and dishes that people can have on loan to use during a reception.
"I've been getting a lot of really nice wedding dresses," Kenneth said pointing to one of the dresses in his shop. "This one had a price tag on it, and it was $4,000."
In addition to expanding his clientele base, Kenneth also plans to add men's and children's formalwear to his inventory and is setting up a permanent on-site alteration space for Sally Turner, who does all of the alterations for clients for free as part of the service.
"I'm looking forward to setting up shop permanently there," Turner said. "I think it's a really great thing he is doing, and I'm happy to be part of it. Kenneth has always been a helper and a hard worker, and I just think it's great that he came up with this idea on his own."
Kenneth — who is approaching dating age — said he also is learning a lot about girls since he set up shop in November.
"They are really picky," Kenneth said with a grin. "They look for that one-of-a-kind dress because most people are only going to go to prom or get married one time. I'm happy if I can help them find it."
Kenneth, who has three nieces, said he will be ready to help his sister's children when they get old enough for prom.
"I think I'll be able to find them something," Kenneth said. "I think that would be pretty cool."
Lloyd said anyone interested in making an appointment or donating formal wear can contact her at (434) 238-5527.
"I can't wait to see where Kenneth goes with this," Lloyd said. "If he has done all this in seven months, I can't imagine where he will be in a year from now."