RICHMOND, Va. - Rebecca Moran has spent the bulk of her time recently sitting on her snug, overstuffed couch with her 4-year-old daughter, Lelia, cradled in her arms.
As rain buffets the windows of their Ashland farmhouse or beams of sunshine pool on the cushion beside her, Rebecca touches her lips to Lelia's head and wonders, "What's it doing?"
The tumor lodged inside her sweet daughter's brain is 4 centimeters big. It grew that large in only three weeks.
For nine days after they found out about it, the Morans lingered in anxiety and fear, unable to start treatment.
Her doctor at the Children's Hospital of Richmond at VCU recommended chemotherapy drugs that could buy Lelia more time, but it took more than a week to get the drugs after her insurance carrier denied that request on Nov. 3.
On Friday night, after the Richmond Times-Dispatch inquired about the situation Thursday and published a story online Friday, the Morans returned home from a trip to Northern Virginia to find the drugs on their kitchen table.
"I just went over and stared at them," Rebecca Moran said Saturday morning. "I feel like we have hope."
The revelation that they could start her on treatment Saturday morning ended what seemed like bottomless days of agony, in which the worst possible outcome loomed on the horizon. Without treatment, the Morans were told, Lelia might have had only weeks to live.
"It was terrifying," Rebecca said. "I was a blob. I sat here on Sunday for 10 hours with her in my lap and never moved, never got up, because she was so sick."
Rebecca is a physical therapist with VCU Health, which provides the family with their health insurance. Since Lelia was diagnosed with medulloblastoma, a brain cancer, almost exactly a year ago, the family had little trouble getting her the treatments her doctor recommended.
VCU Health is self-insured, meaning it pays all its own claims and ultimately decides what is covered.
But they ran into trouble when VCU's pharmacy benefits manager, California-based MedImpact, denied three of the six chemotherapy drugs Lelia's doctor ordered.
Her treatment couldn't begin until all six drugs were approved.
"The tumor is just growing and growing and growing and dividing faster," Michael Moran, Lelia's father, said in an interview Thursday. "Meanwhile, we're twiddling our thumbs."
But on Friday, Rebecca heard though a friend at VCU Health that the health system's vice president of human resources, Maria Curran, was working to get them the drugs.
Then a friend picked up the drugs for the family in the evening, and had them waiting for them at home.
The excruciating delay meant that, for days, Lelia's parents were watching their most valuable resource slip through their fingers: time.
Lelia is too small and her kidneys too weak for many clinical trials. If the chemotherapy drugs help her survive long enough, she could grow bigger while her kidneys grow stronger, and maybe someone could fling them a lifeline.
The chemotherapy isn't a cure. Some children who have been on it have responded beautifully, while others have not. The family is hoping it will stabilize the tumor, and stop a mutation that Lelia has from driving its growth.
But it's not a guarantee.
"It's our last-ditch effort," Rebecca said.
What if the chemotherapy buys them more time? What if, in that time, someone finds a cure? What if the perfect clinical trial opens up? A million "what if" questions swirled in the parents' minds before getting the drugs, and now they seem that much closer to reality.
Lelia — which rhymes with "Amelia" — has round cheeks and loves Peppa Pig. When she smiles, her whole, precious face lights up with joy. She is equally a princess who loves ballet and tutus, and a farm girl whose best friend is a goat named Big Man. She adores her brothers, Brendan, 6, and Micah, 8.
The Morans are aware that they're just asking for time with these chemotherapy drugs. Time that might lead to something even better, they hope.
But why should extra months — or years, if they hope against hope — with their child be too much to ask for?
On Friday, Rebecca sat in her usual spot on the couch, with Lelia snug in her lap. It's where they've often been found since Lelia's initial diagnosis last November.
Outside the home that Rebecca's great-grandfather built, leaves fell to the ground in a crisp wind that shook the red and gold treetops beyond, and sheep grazed in their pasture.
"We literally spend our day here," Rebecca said. "And when you're here, waiting to see if your child's going to get the treatment that's ... that's your last option ... you have two little boys in there ..."
Her voice trailed off, thick with emotion as the heartbreaking, harrowing words lingered in the air and tears trickled down her face.
"She's their life," she finally said. "She's our life."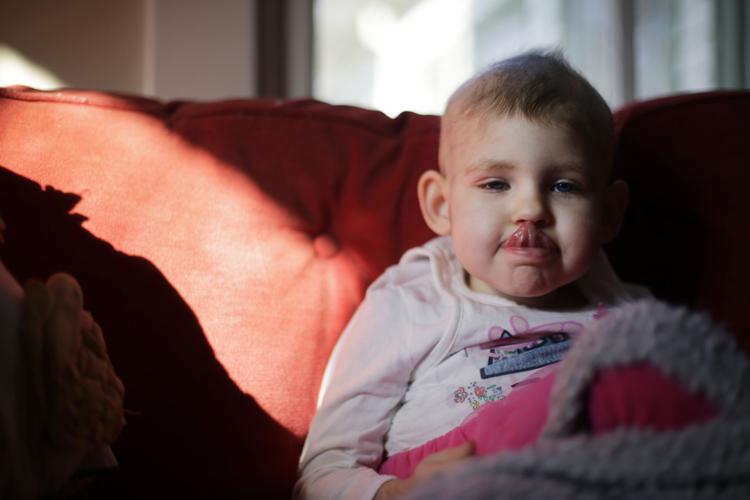 Since the diagnosis last November, Lelia has already been through chemotherapy and radiation. They took their toll. Her hair is slowly starting to grow back, but she still has trouble walking and eating.
At one point, her kidneys started to fail, so she had to start dialysis.
"We were spending four and five weeks in the hospital at a time," Rebecca said. "At one point, I went one day short of five weeks without seeing the boys because she was so sick they couldn't come up and I couldn't leave."
This new chemotherapy regimen, though, might not be so intense. For one thing, they can give it to her themselves at home.
"It gives us the chance to be a family," Rebecca said.
They've been lucky, too, because Rebecca has been able to remain at home with Lelia for a year without ever worrying about losing her job at VCU Health or losing the family's insurance. It's made everything a lot easier, she said, and she's grateful for that security.
According to St. Jude's Children's Research Hospital, medulloblastoma is the most common childhood malignant brain tumor. In the U.S., between 250 and 500 children are diagnosed annually.
It's not clear how long Lelia will be on this new round of chemotherapy. Her current protocol lasts 12 weeks, but the idea is that, if it stabilizes her, maybe she will stay on it for months on end, or until her doctor identifies another treatment option.
Some studies have shown the drugs to give children up to 20 or 22 months of additional life, Rebecca said.
"That's half her life," Rebecca said. "And think what could be discovered. Her kidneys could heal, and we could do some of these other trials."
But most importantly, she said, the drugs guarantee quality of life for Lelia. Not only can they be administered at home, but the side effects aren't nearly as intense as they were with her previous chemotherapy regimen.
"I don't want people to think we're trying to buy three months for us," Rebecca said. "Of course, I would keep her 3 million years if I could, but her quality of life is just as important to us."
If the drugs, which cost upward of tens of thousands of dollars a month, hadn't been approved, the Morans were willing to try every option. They have some family members who had offered to help pay, and they have a GoFundMe account through which they received more than $100,000 in donations.
Their support from family and friends seems to have no bounds. The Love for Lelia Facebook group boasts more than 1,300 members, the bulk of whom have been with Lelia and her family through every step of her journey.
They were posting updates and writing about all their prayers when Lelia unexpectedly visited the hospital on Halloween. She had a stomach virus and an upper respiratory cold, and was throwing up an alarming amount.
"And the next thing I know, they're like, well we need to do a head scan to make sure there's not a bleed or anything, and they came back and they said the scans looked great," Rebecca said.
But then a specialist looked at the scans and saw something that caught his attention. An MRI showed the brain tumor, which had not been there three weeks before.
On Nov. 1, Meghan Moran Smith, Michael's sister, posted to the Facebook group, updating Lelia's loved ones.
"And today we enter into November, just 9 days from the one year mark of diagnosis. So, so many heavy emotions swirling through our hearts. Too many to name and dissect right now. But there are also endless hopes and dreams and prayers for the year ahead. For the years ahead. Hold them close to your heart and deep in your prayers this month. It'll be a doozy, for sure."
A litany of thoughts and prayers were attached to that message, from people who have banded around Lelia and prayed for her nearly every day since her diagnosis.
Meanwhile, Rebecca prays every day, too, trying to strike a bargain with God.
"Tell me what I need to give away," she pleads. "I'll give the farm away. Tell me what we need to make this happen, to let her survive."
Before she began battling cancer, Lelia was a spunky little girl. A fireball, her mom said.
"Literally, she ran the roost around here with the animals," Rebecca said. "She'd be out there chasing the pigs and the sheep and the chickens. She was afraid of nothing."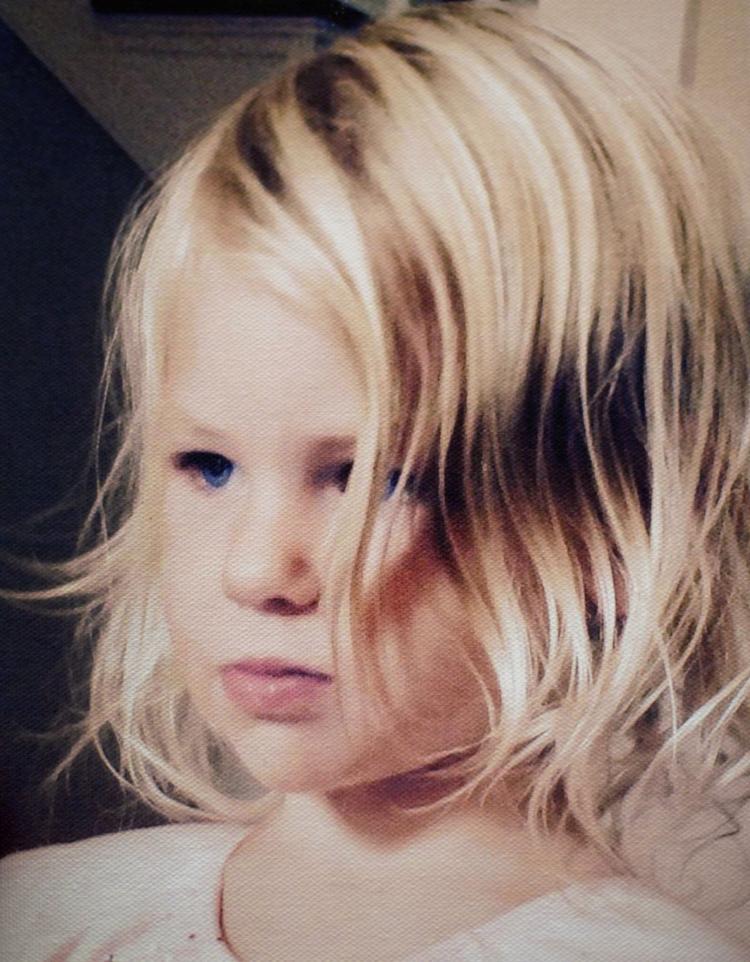 Even now — though she sometimes simply moans into her mother's chest while they sit together if she is uncomfortable or sick — when Lelia is feeling good, she'll sit up and look around the room with equal measures of joy and mischief in her eyes.
Her hair has started growing back in little tufts, like goose down.
On Friday, Rebecca was calm and able to talk without succumbing to tears, which she said is relatively rare. But she was feeling better because Lelia was finally acting like herself. For more than a week, Lelia had been lethargic and quiet, terrifying her mother. But then her doctor increased her steroid dose, and her real personality began to shine through again.
"Who's funnier, you or Brendan?" her father asks.
"Who's funnier, you or Micah?" Michael then counters.
"Brendan," Lelia responds, to laughs from her parents.
As they periodically walk down the hall and pass the living room where Lelia sits on her mother's lap, Brendan and Micah cast protective glances in at their little sister.
When Brendan sits next to her, he loops his finger gently through the buttonhole at the bottom of her pants.
The boys have shown immense resilience in the face of what they and their family are going through, Rebecca said.
Micah keeps everything in. He's the quiet one. But recently he's experienced stomach problems, and the doctor thinks it's stress.
And Brendan is the worrier, but he's young enough, Rebecca said, that he's a little oblivious. The boys' parents do sit them down and talk about their sister's situation, and what the next few weeks or months could bring.
But despite the cancer, despite the knowledge that the chemotherapy alone won't be a cure, the family relishes their time together. The boys gently stroke Lelia's head and let her lightly elbow them in the ribs when she's feeling mischievous.
Her dad makes her laugh the most, and her favorite spot is in her mother's lap. The little girl refers to her and her mother as "peas and carrots," and her father as "mashed potatoes."
They talk encouragingly to her about her illness.
"Are you gonna beat cancer?" Rebecca asks. Lelia nods, and the two do a gentle fist bump.
She discusses a planned birthday party with her mom, too, even though her birthday is in June. This year, she was in the hospital when she turned 4 and too sick to celebrate properly. So the family is planning another party at Lewis Ginter Botanical Garden in the next few weeks, complete with, at Lelia's request, red balloons.
Lelia isn't sure if she wants to celebrate being 4 or 5 years old, but there is one thing she's certain about.
"Do you want to be a baby girl or a big girl?" Rebecca asks.
"Big girl," Lelia responds promptly.
"I want you to be a big girl, too," her mother says.