10 years after deadly Omaha mall shooting, victim's memory helps fiance rebuild his life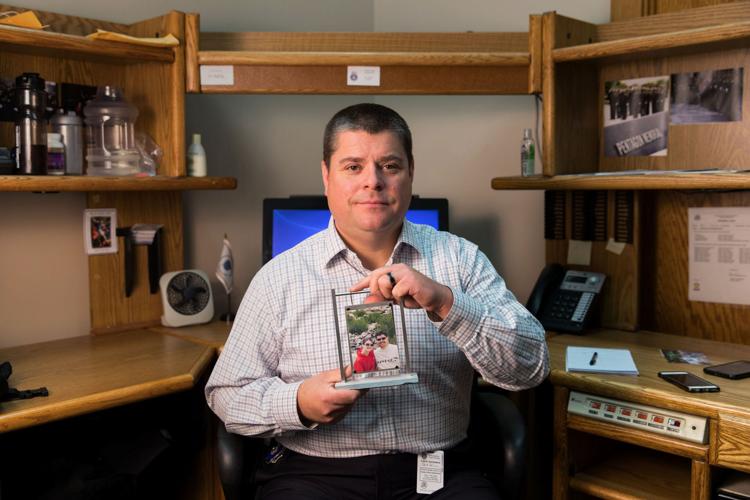 OMAHA, Neb. - Greg O'Neil had long dreamed of becoming a police officer. And when he and Angella Schuster decided to get married, his dream became her dream.
After O'Neil applied to be an Omaha police officer in 2007, his fiancée was always his biggest booster, even when his own confidence at times flagged during the arduous weeding-out process.
"I knew you could do it," Angie told him after he beat the clock to pass the physical agility test — no small feat for the past-his-peak 33-year-old.
Then came Dec. 5. O'Neil was shocked to hear the reports of a shooting at Von Maur, the department store where Schuster worked, where they had met.
He left desperate messages on her cellphone. Angie, call me.
He stood out in the cold for hours.
Then, after hours of anguished uncertainty, an Omaha detective confirmed O'Neil's nightmare: His beautiful Angie was dead.
Dazed, O'Neil walked from the room to a nearby window, one that looked right out on Von Maur. He stared at the store's distinctive golden globe lights as his life with Angie — and future without her — flashed before his eyes.
We thought it could never happen here. But 10 years ago Tuesday, a troubled 19-year-old walked into one of Omaha's most elegant stores, at the most joyous time of year, and unleashed unimaginable horror.
Eight innocent victims died in just two minutes before the gunman turned the assault rifle on himself. The national media called it "the Omaha Mall Massacre." The city joined the long list of places victimized in recent years by mass shootings. Columbine, San Ysidro, Killeen, Virginia Tech, and, suddenly, Omaha.
Ten years later, such shooting sprees continue with numbing regularity. Omaha's mass shooting at the time was the 12th deadliest in U.S. history. It's not even among the 25 worst now. Each lethal recurrence becomes a painful reminder of the day that Von Maur employees called "12/5."
Still, Omaha from the start embraced those who were lost and who grieved, rejected the ugliness and moved forward into a hopeful future.
Indeed, for Greg O'Neil, the passage of a decade would reveal many truths.
That life does go on. Dreams live on. And even in the face of devastating heartbreak, love endures.
They first met amid the low-slung aisles of Von Maur.
In 2001, O'Neil was working in the loss prevention department, manning security cameras scoping for shoplifters. Schuster managed the girls clothing department.
For a long time they were just colleagues and friends. O'Neil was married with a young child. But months after his marriage ended in divorce, his relationship with Angie changed.
In July 2006 they had their first official date. Friendship turned to romance.
O'Neil couldn't believe how lucky he was to have Angie in his life. The Dubuque, Iowa, native was classy. Elegant. Beautiful. Friendly. Smart. Dedicated. And she was so great with his preschool daughter, Meghan.
They loved to go to dinner or just hang out at the house. They'd watch movies or play games with Meghan. They traveled together and spent holidays with their extended families.
By the time the two started dating, O'Neil had moved on from Von Maur to a job as a fraud investigator at First National Bank of Omaha. Schuster would often drive downtown over lunch and the couple would share what Angie called "car picnics" in the park overlooking the Missouri River.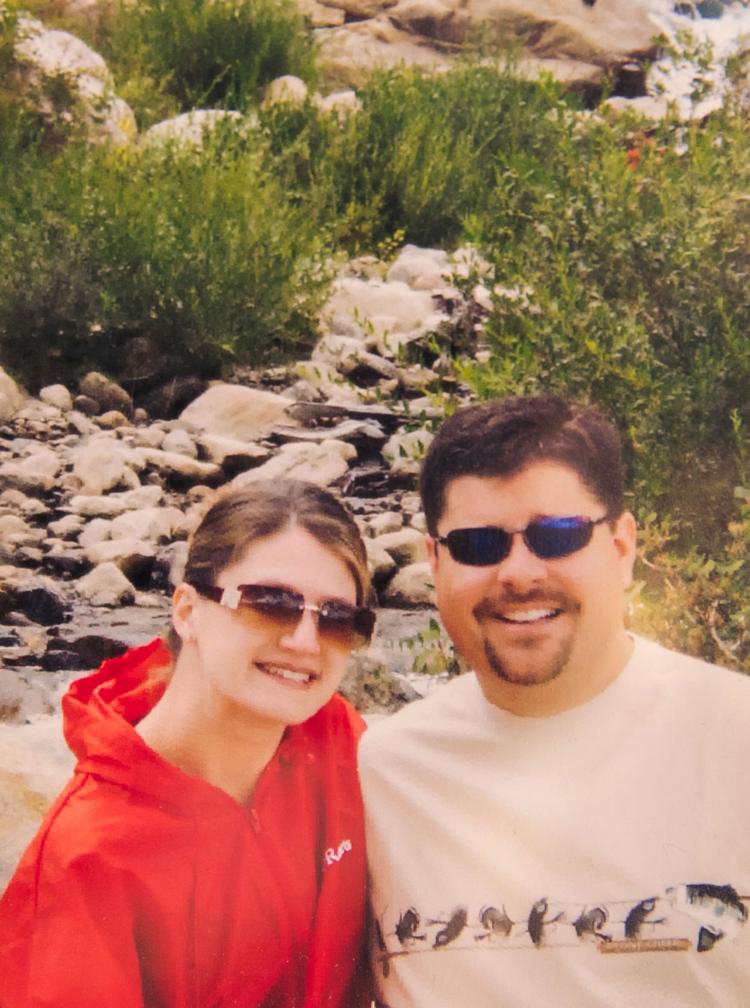 "We did it all with ease," O'Neil said. "We were so comfortable with each other."
They also made life plans together. In 2006 O'Neil and Schuster attended the ceremony where a friend received his badge as a new Omaha police officer, and that got them talking.
O'Neil always had an interest in law enforcement, one of the reasons he worked in security and fraud. Schuster persuaded him to apply to the Omaha department in July of 2007.
The process was a little daunting. Typically there would be well over a thousand applicants for just 50 to 100 jobs.
But Schuster encouraged O'Neil as he trained for that agility test. She reminded him to get a good night's sleep before the written exam. She was so sure he could do it.
"She was always positive, always positive," he'd recall. " 'Don't worry. You've got this.' "
By the fall of 2007, O'Neil had made it through both tests with scores that put him in the running for the department's next 50-person class. He and the remaining candidates were now undergoing deep background checks.
As he awaited the next step in that process, O'Neil and Schuster decided to take another big step together.
By then it was a foregone conclusion they were getting married once O'Neil's previous marriage was annulled. So in October 2007, Schuster sold her house and moved in with O'Neil. He planned to soon make the engagement official, and talked to his dad about shopping for a ring.
"She knew it was coming at Christmas," O'Neil said. "She knew."
With less than three weeks until Christmas, the holiday shopping crush was on at Von Maur. Schuster found a few minutes over her lunch break that Wednesday to give O'Neil a call.
She was just checking in — the last time they would ever speak.
O'Neil had a dentist's appointment early that afternoon. He was in the chair, the hygienist halfway through cleaning his teeth, when someone mentioned that they'd heard about a shooting at the West­roads Mall.
In the office, they turned on the news and soon heard that the shooting had been inside Von Maur.
"I'm out of here," O'Neil said as he headed for the door.
He tried to stay calm during the 10-minute drive, convincing himself that it was a gang shooting or some kind of domestic dispute.
He arrived to find a crush of police cars and Von Maur employees still straggling out of the store.
He ran up to any employees he knew. Have you seen Angie? Nobody knew anything. Some were so shell-shocked, they couldn't speak at all.
As O'Neil stood beyond the yellow police tape in the 20-degree cold, each minute that crawled by without a word from Angie raised his sense of dread.
"I called it and called it and called it and called it," he said of her phone.
The families of those unaccounted for finally ended up at a hotel across the street from the mall, where Omaha police had set up a command post. By then, O'Neil was aware that there were many dead inside the store. In his gut, he knew.
He barely remembers the meeting with the detectives who told him and Schuster's sister that Angie's body had been identified.
"I'm sure a lot of people I know now were in the room," he'd say later. The only thing he'd remember was how surreal it seemed.
The hardest part came later that night. How could he explain to 6-year-old Meghan that the woman who kissed her goodbye that morning would never come back?
O'Neil felt even more numb the next day, when Omaha's police chief in a televised press conference gave the names of all the dead and wounded. O'Neil knew nearly all of them.
Gary Joy would do anything for you. Janet Jorgensen used to help him pick out gifts for his parents. Dianne Trent always had a smile on her face. Fred Wilson was such a gentleman. Micky Oldham was his "work mom." Angie had spoken so highly of Maggie Webb, the store manager who died near Angie that day.
Outside, a clean, thin layer of fresh snow had fallen overnight. Without even thinking, O'Neil grabbed a shovel and went out the door. It was the start of the coldest, most bitter December of his life.
In the weeks following Angie's death, Meghan started picking up feathers wherever she found them — at school, on the street.
"Angie leaves them for me," she told her father. "They're from her angel wings."
It was hard for O'Neil to share Meghan's childlike certainty that Angie was now in heaven watching over them. He started noticing feathers, too, but knew they probably had always been there. He'd just never noticed them before.
Each day, his only goal was to push through to the next one.
In the morning, he'd stare at Angie's picture on the dresser, all her clothes still hanging in the closet nearby.
It took him three weeks to throw out the coffee grounds, hoping Angie would breeze into the kitchen to perk a fresh pot.
He'd bury his nose in her coat as he entered the house, and trip over her shoes by the front door.
During his 16-mile daily commute — time he used to spend on the cellphone with Angie — he'd talk out loud to her.
He couldn't wait that year to take down the Christmas tree. The holidays were that hard.
The community, even total strangers, showered him with support. Talking about Angie was healing. He started seeing a counselor.
I'm sorry you lost your fiancée, she said.
You have no idea, he thought. He told her about all the people he knew at Von Maur whose lives had been stolen.
O'Neil tried to balance his grief with maintaining a strong front for Meghan. Her needs were the main reason he could even pull himself out of bed in the morning.
During those first months, O'Neil had a recurring dream. He was walking in Von Maur, knowing intimately every aisle, backroom and corridor. He came upon the gunman and tackled him to the floor. Angie was safe.
Then he'd wake to the reality that she was still gone.
A life with Angie would now and forever be just a dream. But one dream they shared remained alive.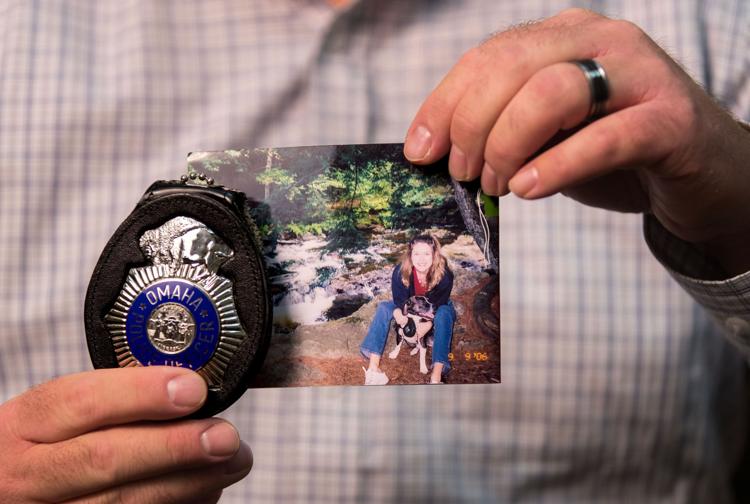 Weeks after Angie's murder, O'Neil learned he'd passed his Omaha police background check.
The department now wanted to schedule him for an interview, the next step in the process.
The interviewer gave O'Neil a choice of dates, including Feb. 14.
He chose that day. He had to. Because Valentine's Day was also Angie's birthday.
O'Neil wondered if it was more than a coincidence.
Was this a feather from Angie?
"What are you doing here?" one of the interviewers asked O'Neil after learning of the day's personal significance.
"Because this is what she wanted me to do," he replied.
He felt Angie's strength. She was still his rock.
"I knew more than ever it was what I needed and wanted to do," he said. "I was able to collect myself."
Weeks later, O'Neil went through another interview — with Omaha's chief of police. It was one of the final hurdles to becoming an officer.
A letter soon arrived making his hiring official. But O'Neil refused to believe it was happening until June 30, 2008. That was the first day he sat down with 49 other new recruits in the Omaha police training academy.
Life in the academy was also no piece of cake. The hardest day: When all the recruits watched a presentation featuring the lessons learned in the Von Maur shooting.
Fellow recruits told O'Neil he should ask out of it. A sergeant checked to make sure he was OK. O'Neil insisted on getting all his training, including in active shooter response.
As with all the challenges in the academy, his memories of Angie helped him persevere to the end.
"She was there," he said later. "She got me through it."
Weeks later, a bittersweet ceremony was held, falling just two weeks before the one-year anniversary of Von Maur. Schuster's sister and brother-in-law looked on as Meghan proudly pinned an Omaha police badge on her father's chest.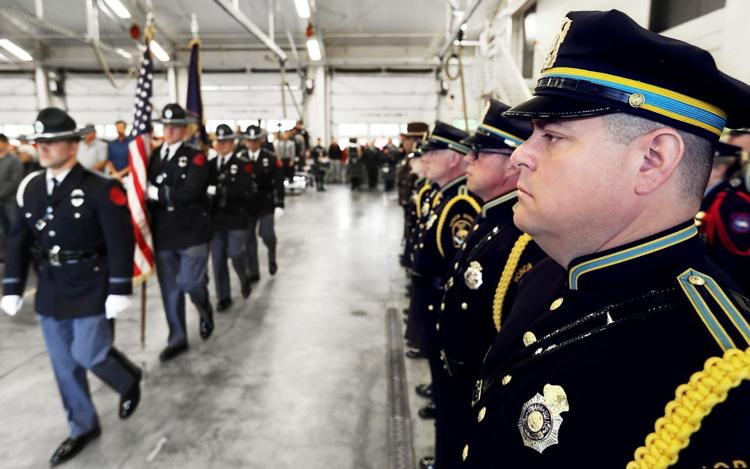 Officer O'Neil loves the challenge of working the street. Getting out and meeting the people. Helping them through their worst days, whether they got in a car wreck, their kid got busted or someone burglarized their home.
"People don't call us to celebrate things," he said.
One of the toughest duties has been informing a person that a loved one has died or suffered some kind of tragedy.
In those moments, O'Neil falls back on his own traumatic experience. You don't want to be a stone, he says. It's OK to show some emotion, some empathy, to ask if they need help.
"They need to know you understand and you care," he said. Even at the worst of times, O'Neil truly does.
He's also responded to fatal shootings, incidents that obviously are more poignant for him than most officers. Another tough day came two years ago, when fellow officer Kerrie Orozco was fatally shot in the line of duty. O'Neil served on the police honor guard at her funeral.
Like everyone else, O'Neil is dismayed by all the mass shootings around the country, growing in both frequency and deadliness. He happened to be in Colorado during the 2012 mass shooting at the Aurora movie theater. Seeing the images on TV, the police lights flashing at night, brought O'Neil right back to Dec. 5, 2007.
When that awful day does come to mind, O'Neil tries not to dwell on it.
He says he's wiped the name of Angie's killer from his brain.
There have been occasions when his police work has brought him back to Von Maur, like the times he's stopped in to pick up a shoplifter.
One thing he still won't do, he said, is go up to Von Maur's third floor. The only time he did he quickly retreated down the escalator. It's too painful to think about where Angie died.
It's a little surprising, but to O'Neil, Von Maur is not a dark and somber place. It's a "great place" — where he remembers meeting Angie, and where he still has many friends.
"See all this," he said one day recently, pointing to his tasteful striped shirt and matching tie. "Susan Eddins in Von Maur sportswear. I buy everything from her."
There was a reason O'Neil was dressed that day in shirt and tie rather than the standard police blues. O'Neil earlier this year took a new assignment in the Omaha police public information office, helping keep the media and public informed about public safety matters.
There were several reasons he made the move, including getting better hours for his family. That relates to the other big change in his life over the past decade: Beth.
About a year after Angie was killed, a friend wanted O'Neil to meet a woman who worked for another metro-area law enforcement agency. O'Neil told him he wasn't ready.
Soon after, the friend invited O'Neil to a party. When O'Neil got to the "party," he and Beth were the only guests.
They didn't start dating right away. But it soon became clear to O'Neil he'd met another diamond.
As a police veteran, Beth understood what the rookie officer was going through in his new work. He could confide in her.
And she totally understood what Angie meant to O'Neil and Meghan, how important and impactful she was. Beth embraced the enduring love they felt for her.
"We still have a picture of Angie on the refrigerator," O'Neil said. "(Beth) never swept those memories off to the side or into a box. She has been the total opposite of that."
O'Neil and Beth married in 2011. In, 2015, a son, Aidan, joined their family.
Ten years after Von Maur, O'Neil can hardly believe how happy his life has become. But then again, he's also not surprised.
"I'm pretty sure Angie sent her my way," he said.
He's convinced Beth was another feather from Angie.
---
---